We provide high-quality solutions for restaurant kitchen designs. With a wide range of experience, we're proud to have every aspect covered and can project manage an entire build; everything from initial consultation and CAD design, through to ongoing maintenance and one off catering equipment upgrades.
After many years of working with all types of restaurants, we offer the following core services for restaurant kitchens:
CAD design
Project management
Catering equipment supply and install
Health and safety on site
Satisfying hygiene standards
Extraction systems
Electrical works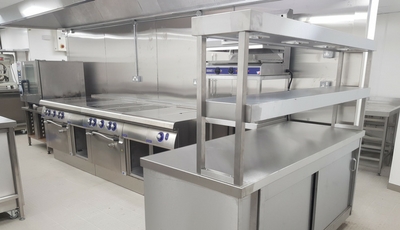 All of our commercial kitchens for restaurants are developed and tailored to your space, equipment needs and budget. We aim to achieve the best possible result to help add quality and value to your venue, for all culinary styles, whether French, British Gastropub, Indian, Chinese and more.
We also offer a diligent kosher kitchen service to ensure the separation of meat and dairy with a layout that's efficient and productive.
For more information, call us on 01323 843447, or email sales@indigoce.co.uk.
Best equipment, best results
Whether you're a small, independent restaurant or a global franchise, we can advise on the best catering equipment to serve you and improve the productivity of your kitchens. We take into account the daily demands of service and ensure you can operate smoothly at capacity. For any restaurant building a reliable, quality reputation, this is essential.
All of our equipment is high quality and meets industry standards for design, safety and hygiene so you can your customers can enjoy peace of mind as you cultivate a pleasurable dining experience. We operate a very exact approach to restaurant equipment, meaning we get it right first time, complete with warranties and after-sales service.
At Indigo Catering Equipment, you can be confident in our expert knowledge, skills and our guarantee to work to a tight deadline. This means you have the time to consider the running of your business after installation, and delivering a quality service to your guests when you launch, either as a new business or an upgraded venue.
Tell us about your project
For us to learn more about your project, refit or renovation, call us on 01323 843447 and we can begin the process of improving your restaurant space and designing a practical layout to exceed your expectations.